Soundproof Vinyl Manufacturer |Sound Deadening Vinyl
General Details
Soundproof Vinyl
A soundproofing vinyl can isolate the sound and make the environment noise-free. The soundproof vinyl is a high-density film that is fixed on the floor, wall, and ceiling to block low-frequency sound waves, also known as bass and sound vibrations. According to the requirements of sound insulation, vinyl soundproofing material has various thicknesses, from 1.2mm to 3mm.
The vinyl backed insulation material can be easily fixed using adhesives and nails. The STC (Sound Transmission Level) of a sound proof vinyl with a load mass of 3mm is 27. Use this product to easily isolate lower frequencies.
Is sound deadening vinyl flammable?
The good news again is that soundproofing vinyl is designed to withstand higher temperatures. But this does not mean that it is 100% fireproof. If exposed to high temperature continuously for a long time, the plasticizer in it will catch fire. However, because it takes a lot of heat to burn soundproof vinyl, it is definitely safer than foam board in terms of fire protection.
Soundproof Vinyl Technical Specifications
Size: 1x5m, 1x10m
Color: Black
Thickness: 3mm, 2mm, 1.2mm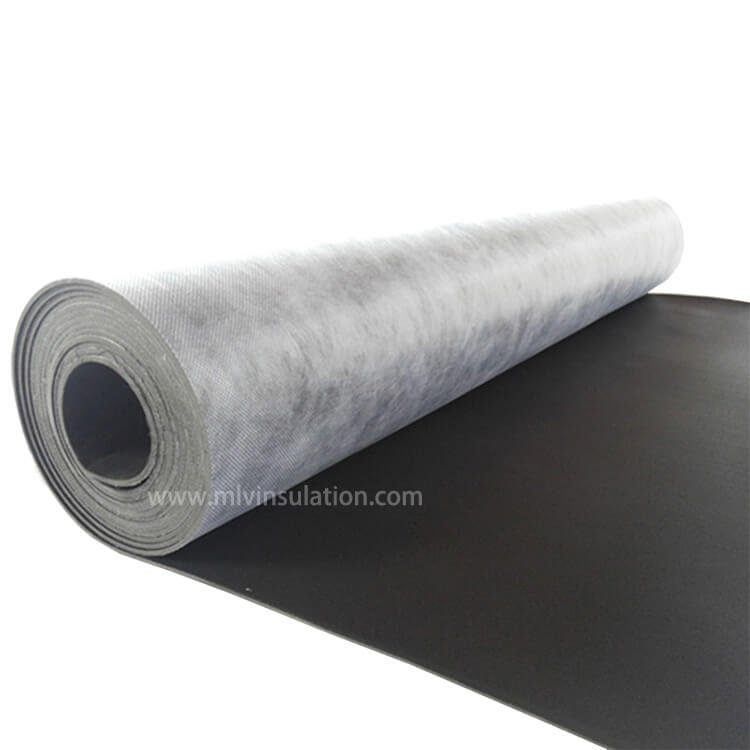 Sound Deadening Vinyl Installation
Soundproofing vinyl is heavy because of its high density and greater mass. The molecules of the product are flexible and can be easily installed on a variety of surfaces, including oil refinery pipelines used for isolation, and also tightly adhere to and isolate the sound. Large amounts of loaded vinyl can be easily installed when needed using synthetic rubber adhesive and nails.
The main application of the product is sound isolation, sound blocking and low frequency control for:
Multiple hall
Home theatre
Studio
Ballroom
Nightclub
Restaurant
Stadium
Manufacturing unit
The performance, sound characteristics and fire rating of all products are approved. In order to meet industry standards, all products should meet the requirements.
We are a manufacturer of sound proof mat, sound insulation and acoustic products. With more than 20 years of experience in this industry, we have now become one of the well-known suppliers of sound insulation products in the construction, soundproof mat for floor, cinema, multiplex, home theater, recording studio, auditorium and hotel industries. We have always been the choice of acoustic engineers, acoustic consultants, construction project managers, building material traders and importers, architects and interior designers.