Sound Proof Insulation Board | Noise Insulation Boards
General Details
Sound Proof Insulation Board
Our sound proof insulation board is made of MgO composite materials and vibration damping material. So how to cut noise insulation board? Any normal woodworking tools can be used to cut wood boards. Remember that cutting wood with a circular saw will generate a lot of dust, so use protective glasses instead of cutting outdoors. They can also score and steal.
If you want soundproof gypsum board, hollow ceiling or wooden floor, you can use soundproof insulation board. Remember that sound insulation is scalable, the higher the specifications required, the higher the cost, and the more materials required. More materials means more manual installation time, which increases the total cost. Installation quality of soundproof panels is also a factor affecting the success of the project. The design of the overall structure and the combination of materials used all play a role in the level of sound insulation achieved. The better the information you provide us, we will provide you with better equipment recommendations.
Soundproof Insulation Board Specifications
Size: 2440x1220mm
Color: white
Thickness: 15mm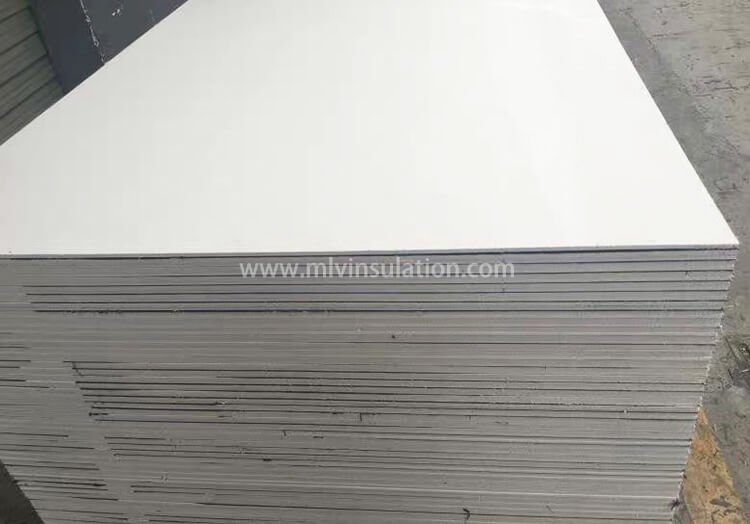 Typical applications of soundproof board include:
Fans, pumps, coolers and compressors.
Diesel generators
Pipes and other equipment room
Hard floors sound insulation board price
Indoor sports facilities
Industrial room
Power transformer
Audio and TV recording studio
Q: How should the sound proof insulation board be installed?
Answer: The wall sound insulation board and floor sound insulation boards are installed in the same way as any conventional gypsum board.
Sound Proof Insulation Board Installation Tips:
1) When fixing screws within 3cm from the edge, it is recommended to drill a pilot hole.
2) Be sure to leave a gap of 3mm between the bottom of the board and the floor and between the top of the board and the ceiling so that the gap can be compressed with acoustic sealant.
3) Always leave a gap of 3mm between adjacent boards, wipe them with a mesh belt and seal them.
Q: How to deal with it?
Answer: Please always put the edge of the board, laying it flat will cause unnecessary damage. Due to the rough edges, please use work gloves to protect your hands. If it's used on floor, you can use it together with soundproofing mat.
Application area: luxury hotels
Luxury and boutique hotels are known for their peaceful and peaceful surroundings. Visitors must feel at home when they come on vacation. Footsteps, low bass in the banquet hall, traffic noise, and whispers between rooms can be big problems for the guests who stayed behind. To avoid such problems, we recommend isolating all sound transmission areas.