Soundproof Mat for Floor | Soundproofing Mats
General Details
Soundproof Mat for Floor
Soundproof mat for floor is available in 1000mm wide rolls and 5 standard thicknesses (3mm, 5mm, 8mm, 10mm and 15mm). Waterproof membrane is also need, and rubber mats can be installed under most grouting, glued and floating floors, including tiles, natural stone, marble, brick, pavers, hardwood, engineered wood, laminate flooring, parquet, vinyl board, vinyl Substrate tiles, LVT and carpets. The soundproof matting for floors is mainly made of recycled rubber and is supported by independent laboratories and field tests. Floor soundproofing mat has been recommended and approved by the Association and is used in some luxury apartments around the world. It is the product of choice for excellent sound insulation materials used in commercial and residential projects.
Whether placing carpet or hardwood floors, building owners and contractors should consider installing sound insulation under the floor covering. The additives are available in a variety of materials and thicknesses, which will bring many benefits. There are some advantages here.
Soundproof Mat for Floor Specifications
Size: 1x10m
Color: Mix color
Thickness: 3mm-20mm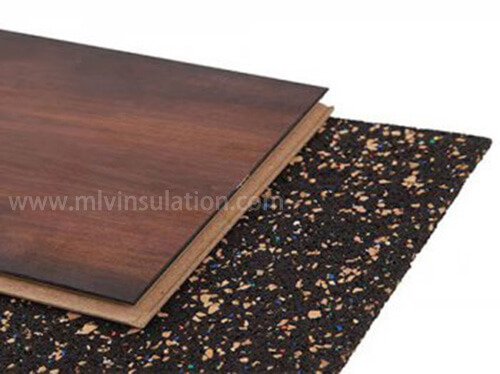 What are the benefits of soundproofing mats for floors?
1. Noise reduction of floor soundproofing mat
Acoustic matting for floors can reduce noise from vibrations caused by pedestrian traffic, reducing sound transmitted on flooring. The additional layer between the floor and the ground floor is very suitable for multi-storey apartment buildings and houses. Those users at lower levels will not be bothered by the above activities.
2. Additional insulation
The material used for the gasket provides a reliable thermal protection layer. The mixture of felt and synthetic fibers is naturally insulated. They keep the floor warm in winter and prevent the cold from escaping in the hot summer. With no heat and no air loss from the floor, you can regulate the temperature more effectively without overworking the HVAC system.
3. Comfort from acoustic matting for floors
The components used to make soundproof mat for floor are often sponge-like and malleable. The shock absorption capacity is enhanced to provide a softer feeling under the feet and reduce the pressure on the knees. The lining is particularly beneficial for people walking on hardwood floors, but to avoid premature wear, it is recommended for wall-to-wall carpets.
Allergy sufferers will also benefit from an additional barrier against allergens. The sound proof mat will reduce the airflow, thereby hindering the circulation of dust particles. Additional protection is an excellent investment and can extend the life of the floor.
If your next construction project requires sound proof floor mat, please contact us. Visit our website to view our services.