Water Pipe Insulation | Insulation For Water Pipes
General Details
Water Pipe Insulation
Mass loaded vinyl is heavy, thin and flexible, which makes it a perfect soundproof material for some particular application such as water pipe insulation wrap.
Features
The mass-loaded vinyl insulation for water pipes has several thicknesses with the following approximate sound transmission level (STC) values.
Thickness(mm) weight(kg/m2) sound transmission class
1.2 1.6 19
2.0 2.7 22
3.0 4 26
MLV can be nailed, tightened, stapled or hung (using grommets).
Why Choose MLV for Insulating Water Pipes
No need to say it's not only suitable for cold water pipe insulation but also a hot water pipe insulation material. The main features that making mass loaded vinyl the best for water pipe insulation applications is characterized by its thinness and flexibility.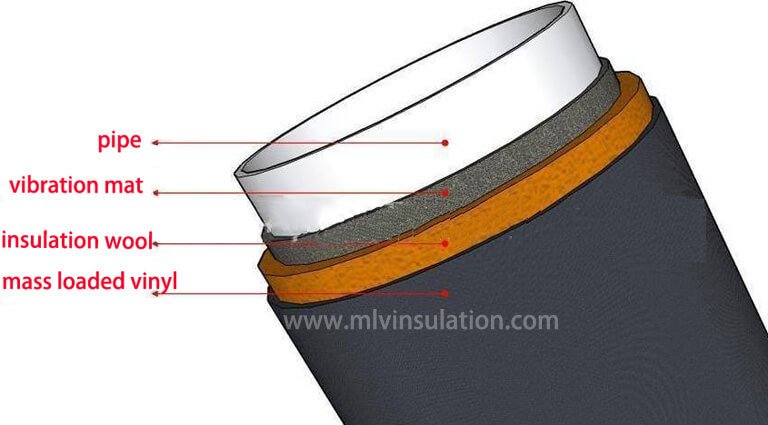 Thin
A 3mm thick MLV sheet typically weighs about 4 kg/m2. For comparison, this is equivalent to more than twice the thickness of the dry wall.
Flexible
Most classic soundproof materials such as dry walls are solid panels. Obviously these materials are not suitable for water pipe insulation. In contrast, MLV is useful in situations like water pipe insulation where you need a flexible sound reduction material.
In addition to be the best water pipe insulation, when is the mass loaded vinyl cost-effective soundproofing solution? It is a good choice for three applications:
You need a very thin layer of quality. For some small floors or walls, the use of MLV instead of the dry wall can save space. To save space is also to save money.
You have a temporary application, or you need a portable source with mass. MLV can be used as a portable noise blanket or noise reduction curtain.
You need a flexible mass product. MLV can be used to wrap columns, or fill gaps around doors and windows.