Insulation Rolls | Soundproofing Roll
General Details
Insulation Rolls
MLV insulation rolls are a high-performance flexible material that provides excellent acoustic transmission losses. Designed to meet market demand, soundproofing roll has been effectively used to reduce global building, commercial, industrial and automotive noise.
Our engineering team has developed the insulation rolls for their high density, thinness, high flexibility, tear resistance and strength. These properties allow the EPDM rubber roll product to have high transmission losses over a wide range of frequencies.
Rigid lightweight panel, such as gypsum board, dry wall, plywood and hollow core wall, usually has a gradient of resonance, allowing noise to be transmitted through the structure. It depends on the stiffness and thickness of the material and occurs at a position where the sound propagating through the structure matches the natural frequency of the panel.
Our standard mass load vinyl roll insulation material, with enhanced fabric backing, strength and self-support. They can be suspended for long periods of time, helping to block noise in industrial insulation and construction sites.
Application of Insulation Rolls
• Easily pass through the fence to create a barrier of noise.
• Interior cavities or ultra-light walls, ceilings and floor structures;
• Can be laminated on a lightweight structure to reduce vibration and reduce noise in the air;
• Home theater room, office divider, and meeting room;
• The adjacent partition wall, pipe wrap, wall insulation roll, and pipe insulation roll;
• Automotive cabin applications to reduce engine and road noise transmission;
• Insulation rolls can be used for Soundproofing doors;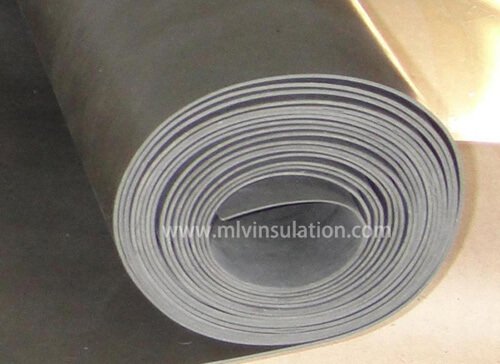 Feature of Insulation Rolls
Tear resistance, high tensile strength. Can be up to 5 meters of suspension.
Can be cut and installed through obstacles – provide flexibility in pipes, pipelines, cables, etc.
Resistant to most chemicals, solvents and gasoline;
The insulation rolls resistant to weather and ultraviolet light;
Do not contain lead, or release oil and asphalt;
Soundproofing Roll Technical Data
Various laminates such as foils, metallized films, foams and polyester
Various weights, width, roll length and size